DIY Bridal Shower, Family Recipe & Party Scrapbook
Your best friend is getting married. You're the maid of honor. You're thinking there is no way you're going to get her a toaster or blender. Why not make her a bridal shower scrapbook?
Once the invitations are chosen, save one, completely filled out to put at the beginning of the scrapbook. When you send out the invitations, ask each guest to mail you one photo of the bride with the guest, along with a few sentences about how they know the bride, or a special moment they've shared with the bride. Another option is to have paper and pens available at the shower and have all of the guests write their thoughts while at the shower. For those guests who can not attend, it's wonderful to have their photos and thoughts also. Since you want the paper to be acid free and lignin free, consider mailing the paper with the invitations.
Did the bride register at a particular store? Go to the store and take photos of the store, from the outside. If the bride goes with you, take photos of the bride standing outside of the store. If the store has a catalog, take a photo of the store catalog.
If the shower is held in a reception room, take several pictures before your guests arrive. If the shower is held in someone's home, take photos of the outside of the house. Then take some photos of the decorated room prior to everyone arriving.
Are you serving food? If it's prepared ahead of time, take photos of the table with all of the food on it. Did guests bring the food? If so, provide them with paper to write down the recipe, which you can then include in the scrapbook you are making.
When the bride begins opening her gifts, try to take one photo of each gift. Jot down who gave her the gift and try to include a photo of the guest on the same page as the gift photo from that person. Make a point of getting at least one photo of each guest in attendance.
If you play any type of games that involve writing, try to use acid free, lignin free paper so that you can include the game sheets in the scrapbook.
If the bride has thank you notes, include a blank thank you note in the scrapbook, so that she'll have the memory of what notes she used.
Using all of the above suggestions, you can create a very special memory for the bride to be and I guarantee that the bride will appreciate this scrapbook much more than a toaster or blender.
Creating A Family Recipe Scrapbook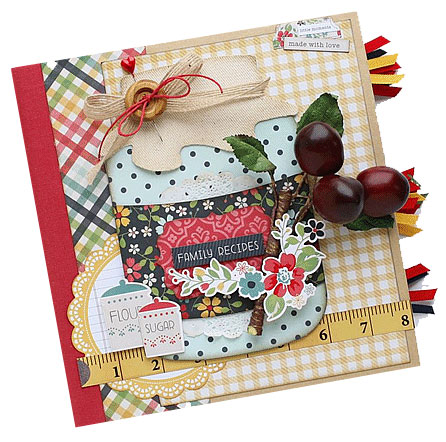 I can not tell you how many times I've called my mom and said "mom I just have to have your recipe for such and such". It's been a slow accumulation of recipes, but she chuckles each time I realize I need yet another recipe from her.
Now that I have an adult daughter of my own I really wanted to pass the recipes on to her also. Many of these recipes she's been eating since she was old enough for solids. My daughter also has a recipe book from her aunt on her dad's side.
Recipe scrapbooks can be given to aunts, uncles, cousins, children etc. A 6×6 scrapbook works wonderfully. They are large enough to hold a 3×5 index card. You can also use an 8×8 scrapbook and have the recipes on paper, instead of index cards.
I think it's a great mix to combine photos and recipes. For example, a group family photo at the beginning of the album is a great way to start off the album. If you've asked for recipes from multiple family members, put a photo of the recipe submitter on one page and the recipe on the opposite page.
It's also a great help to have a shopping list. Consider the actual recipe on one page and a shopping list on the opposite page. I very often take a recipe to the market with me and shop off the recipe page. By creating the list, the recipe book holder just needs to remove the shopping list page and take it to the market.
Another idea is to create a bit of history with your recipes. If you've had several family members contribute recipes, consider having the recipe on page, photos on one page and a bit of information on the author on a 3rd page. Most scrapbooks are very expandable, so there is room for many pages in one album.
All of my cookbooks have measurement charts and converters in them, so when making a recipe album, it's great to add this information to either the back or the front.
Recipe albums are a great gift for both the new bride, especially if the gift comes from her husband's family with recipes for all of the dishes he grew up with and for the college graduate setting up their first home.
Creating a Surprise Party Scrapbook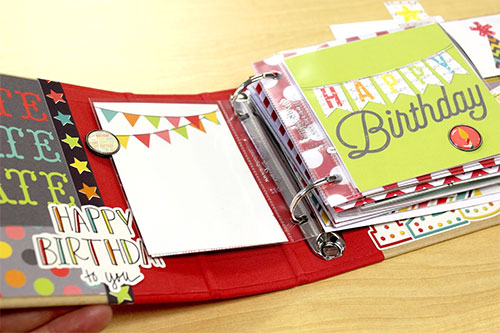 It is so much fun to plan a surprise party. I planned a party for my mom for her 70th birthday. After it was over, I realized how much she did not know about the planning I had done.
I was able to recreate quite a bit for her scrapbook. My dad and I actually began making plans a year in advance. I began her scrapbook with a calendar page from the year before. I then included photos and information from all of the banquet rooms we had considered. The banquet room we ended up choosing was in a hotel, so we saved a postcard from the hotel along with a brochure of the hotel.
We did hire an entertainer and so I included some information from his website to add to the scrapbook also.
When we compiled the guest list, I printed it out so she would know who we invited. I had asked for R.S.V.P.s through email and so I was able to print out all of the emails, both those saying they'd love to attend and those that were regrets. Some of the regrets actually wrote personal messages to give to my mom. So, they were given to her at the party and then put into her scrapbook with the other messages.


I also saved one of the invitations so she could see the invitation that went out to all of her friends.
Journaling can also be fun when planning a surprise party. For example, my mom did not want to go to the restaurant where the party was being held. We journaled about how we had to convince her that no one else could accommodate our family that night and how this place was the only one that served foods my sister could eat. When we arrived, we did not want to walk through the parking garage, and so we led my mom around the side of the restaurant. She truly thought we were all nuts, not knowing where we were going. These are great things to journal as a remembrance of the event.
During the party, we had multiple people taking photos. We of course were the last guests to arrive and I wanted photos of other guests as they arrived and of the hor d'orves table. And of course we wanted a photo of my mom walking in and being surprised.
We did take pictures throughout the evening and had a lot to work with when we went to create her album. My mom was able to see the party from start to finish through our eyes.