Fine Art Fair Celebrates the Strength of the Caribbean People
Fine Art Fair Celebrates the Strength of the Caribbean People after 2017 Devastation by Hurricanes Harvey, Irma and Maria
BRIDGETOWN, Barbados-February 15th, 2018 – The Caribbean Fine Art Fair (CaFA) is delighted to present its 8th annual exhibition. This year the exhibition examines Caribbean expressions of loss, hope and restoration, exploring the value of reminiscence. Held in Bridgetown Barbados at the esteemed Grand Salle within the walls of The Central Bank of Barbados, the fair will exhibit art from 40 of the Caribbean's most prodigious artists.
The exhibition will be headlined by the works of Dominican born Shadrach Burton and the collection curated by Independent curator Niama Safia Sandy, exquisitely titled 'The Price of Memory'.
Executive Director of CaFA, Anderson Pilgrim, is looking forward to witness the response of the public, and art enthusiasts, as he maintains that the Caribbean should not forget the fortitude that avails as a result of the devastating effects of climate change on small island systems. He also reflected that not only is Burton's piece characteristic of what the region has been through, but Niama Sandy's selections and interpretations belong on the celestial plane. "Naima's" 'Price of Memory' exhibit and her curatorial vision have injected quite a bit of excitement amongst myself and my partners. The artists that she presents will bring something new and exciting to the Barbadian public."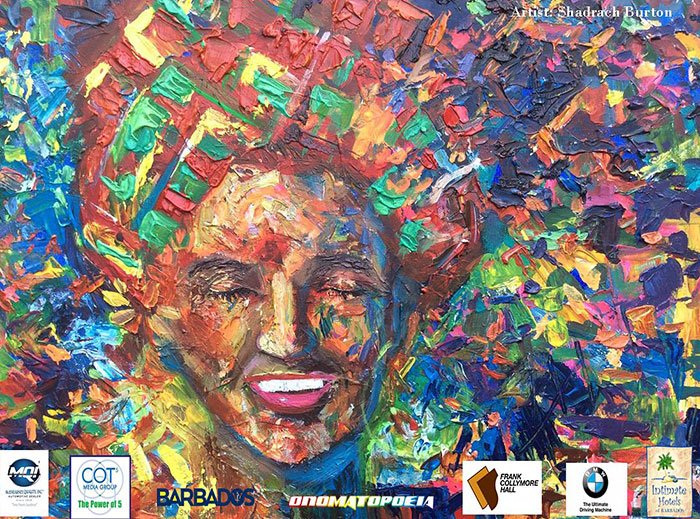 The art fair boasts a tradition of introducing new elements each year and 2018 is not an exception; CaFA has taken up the mantle to exhibit works from Barbados' secondary schools, giving young artist a taste of the lime light. The School exhibition will be hosted from March 9th – 11th at the Norman Centre Mall in Bridgetown. Also fresh and endearing is the topic 'Art is Medicine' which will be discussed at the Symposium to be held at noon on March 10th, on location.
Is it lunch time yet?
Do you need a quick bite and a moment to relax? This year, CaFA also has a new event where you can view art and have a meal all in one afternoon. This promotion, CaFA calls 'Art and Lunch'. Order from a delectable selection of Caribbean dishes before March 03rd and you will be one of the few who gets to have lunch in this creative ambiance.
Commencing at 5:30pm on March 07th with its Gala Opening featuring a special guest appearance and live music by Terry 'Mexican' Arthur, the fair, in addition to the open exhibition, has a packed week of events  at the Grand Salle which include : Spoken Word hosted by Danny Simmons; Open Mic; Screen Printing demonstrations; Caribbean Fashion with Milan Corner, Byou Designs, Fashion Couture, Kalene Designs, CH Needle Works, Marvo White & Lana Wilson. As mentioned before the Fair also hosts the Caribbean Art Symposium, "Art is Medicine", come for the discussion of, "Graphic Art: Novels & Comics"; "Art Quilts, Fiber Arts and Design"; "Theatre, TV & the Visual Arts". Panelists for the symposium include: Producer Aduke Aremu, Khuumba Ama,  Dr. Myrna Belgrave,  Mela Berger, S. Ross Browne, Dr. Myrah Brown Green, Dan Hort, Omar Kennedy,  Dindga McCannon,  Dr. Ademola and Rush Arts Co-Founder Danny Simmons.
CaFA Fair is planned and produced by a team whose aggregated experience in fine art totals over 100 years and is supported by business such as Barbados Tourism Marketing Inc. COT Media Group, The National Cultural Foundation, Intimate Hotels of Barbados, Onomatopoeia and McEnearney Quality Inc.
Furthermore as CaFA will be facilitating the Children's Art Exhibition, free Admission is granted to CaFA Fair events for all students with ID & children 16 years and under, adults pay a price of BD$12 with a waived admission for those attending Art & Lunch.
For more information visit: ­­­­­­­­
Our Facebook Page
Follow cafafair on Instagram
Follow CaFA Fair on Twitter
Contact Charlene Smith at lookbarbados@gmail.com