Newport Systems To Your Water Rescue
Although Barbados is a small island state, we have a plethora of problems with garbage disposal and particularly plastic waste. Our eco-friendly industry is still pretty much in the infancy state.
Shawn Gibbons embarked on Newport Systems Inc when he saw a gap in how businesses supplied their clients with complimentary water.
From modest beginnings, the business has gone on to make its mark in corporate Barbados with over one thousand dispensers installed island wide. In 2014 they extended their operations to St. Lucia and have become a distributor for the international Elkay brand throughout the region.
What has made this venture so successful?
One significant factor says Sales and Marketing Coordinator, Rosie Gibbons, is savings on the bottom line.  Their installations are bottle free and on a rental basis therefore there is no need to constantly purchase the heavy five-gallon bottles of water. For some companies this has resulted in thousands of dollars in savings. Some other great features of the bottle less installation are:
They eliminate plastic waste by encouraging you to bring your own bottle
The installations are aesthetically pleasing – no more hauling of heavy five-gallon bottles
The client operates the installation maintenance free. All maintenance is included in a very reasonable package and is managed by Newport Systems Inc. You never need to call them because they internally schedule your maintenance – so they will call you
Their systems are purified with Alkaline, Mineral and Reverse Osmosis Filtration
Newport is not tooting their own horn by any means, for their commitment to being an eco-friendly business, they have been endorsed by the Future Centre Trust.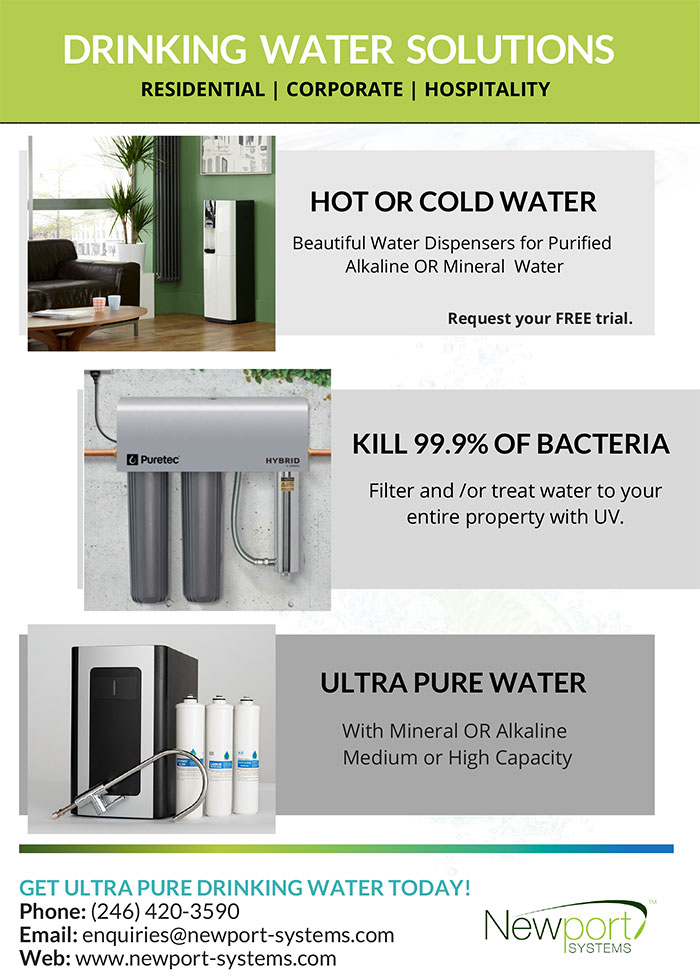 Here is just a snippet of what clients have been saying:
"The system has been nothing less that phenomenal for both students and parents alike. We have found that it works well, that the maintenance program is great and that it does not leave a mess like other systems have done in a school setting like ours. We recommend it to any school or office. You surely would go with Borg & Overström®."–  Kenroy R. Burke, Principal, People's Cathedral Primary School

"NEWPORT found the key to our happiness when it came to providing a more cost effective, environmentally-friendly drinking water solution. Seawell Air Services Passenger Services Department now benefits from having endless supply of hot and cold filtered water with the ease of just pushing a button. Not to mention, NEWPORT has helped us save an approximate cost of $10,000 a year." – Staff, Seawell Air Services

"The coolers function well and provide consistent taste. You can barely taste the difference between filtered water and the bottled water. The service is also second to none… their response time is very good."- J.E Bergasse & Co.

"Very good service. Prompt responses. Friendly and business-like staff." – Esther Thornhill, Administrator, New Dimensions Ministries
What if you are not part of corporate Barbados? Newport Systems are installed in homes, schools, churches, gyms and in general public areas with applicable maintenance packages. Their products include alkaline water pitchers, drink fountains, water conditioners, and all parts necessary to keep these systems in good order.
One of their newest products is the whole property filtration system. There is no need to filter water cup by cup as this UV light system is installed close to the client's water source, that is, just after the tank or the water main. The and UV light rays to remove dirt, rust and sediment from your water.
So, how do you like your water? Hot, cold or sparkling? Contact the guys at Newport Systems Inc and take a drink of water – it's Eco-friendly and its clean.
Tel: (246) 420-3590
Email: enquiries@newport-systems.com
Web: www.newport-systems.com
See more on the Bajan Forum.