What Barbers In Barbados Want You To Know
Barbers from all parishes in Barbados, from barbers who cut hair at home to those in world class barber shops, have let us in on their secrets and tips on grooming for men.
Barbados' barber shops are normally filled with men who like to maintain a clean and neat appearance.
While this article is filled with tips and secrets for men, mainly of African descendant, other ethnic groups need not stop reading at this point.
Some of these tips could be beneficial for all persons.
Personal grooming for Men
You know what they say about first impressions, your first impression should always be your best impression. Most people judge others based on their outward appearance initially. The effects of an outstanding physical appearance are immeasurable.
This makes personal image a main concern for persons around the globe, especially for African men. In my most modest opinion, a well groomed, nicely cut hairstyle in combination with a professional look can take you to the moon and back.
Present in most African cultures is the absence of teaching men the importance of personal grooming. Most men rarely see the importance of having well-manicured nails and a skin care routine, if they do it is never to the extent that women do.
African Clothing: Nukunu Fashions – CLICK HERE
Grooming for African males is basically washing their hair and manscaping. Trimming their beard, nose hair, ear hair, armpits, chest and stomach and back hair as well as taking care of their feet and applying body sprays is seen as the only element of personal grooming.
The texture of African hair and the colour of their skin sets them apart from other races. For this reason, special care and attention is needed.
Below are some guidelines and tips for grooming barbers want you too know.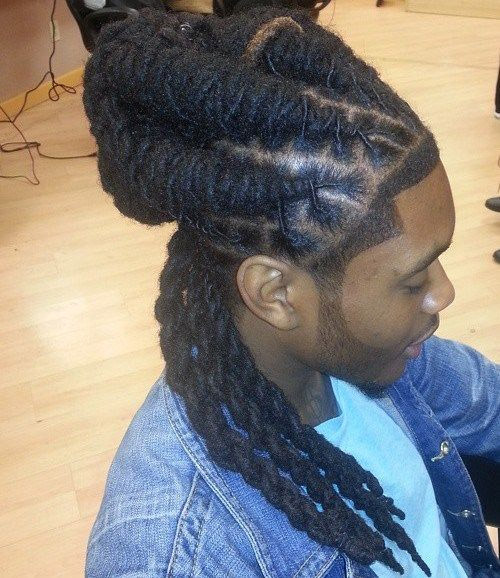 Hair
The golden rule of hair is to know your hair type. One must first know their hair type before they embark on a hair care journey. Most African men hair is full of coils, some may be tight, this hair type is usually described as kinky with hair follicles that are oval in shape. While others have a looser texture giving a more wavy appearance.
💡  Tip: If you live in Barbados and produce any hair or body care products please contact us.
After you have identified your hair type, it makes it easier to maintain a clean and neat look.
This involves choosing the right products in combination with having a hair regimen that maintains the health of your hair.
A hair regimen could consist of washing and conditioning hair at least every two days, trimming the hair every few weeks and moisturizing the hair every week.
How fast your hair grows, and your budget will determine how regularly one cuts their hair. Men who have braided hair and dreadlocks should take extra care of their hair and grooming is of the upmost importance. They can use sheen spray and wrap their hair while napping and sleeping to reduce shedding.
Bajan Men Are Beautiful Everyday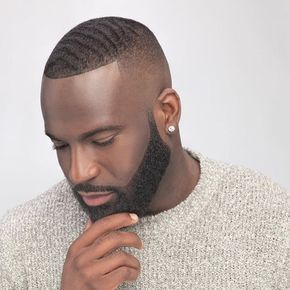 Very important to hair care is manscaping. Visiting one of Barbados' barber shops every two weeks can help maintain the perfect trimming of one's hair and beard.
This is one of the best ways to add a little more flavor to one's facial appearance.
To remove ingrown hair, exfoliating the face is of vital importance. Before shaving, men should exfoliate their face which helps eliminate dead skin and removes dirt, which may also reduce beard growth.
Make sure to shave with the grain and not against it or just avoid razors and go for an electronic shaver.
Another feature of manscaping is trimming one's nose, ears, armpits, chest, stomach and back hair with a small scissor or clippers. These hairs help trap dirt but are not very important and serves no purpose when they are grown long.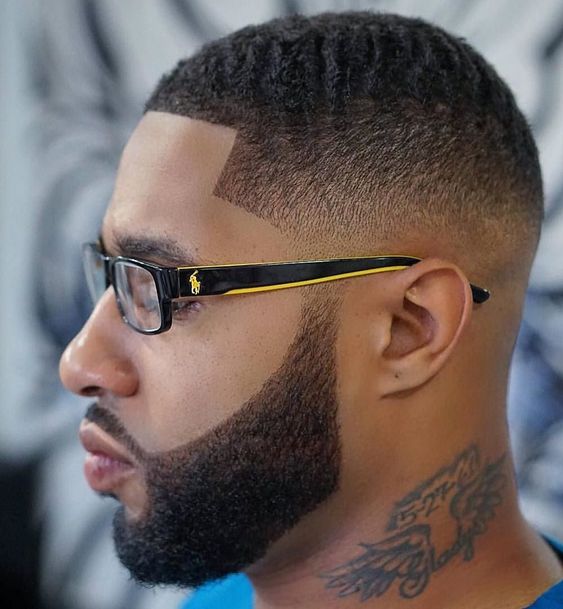 3 Quick Tips on Hair Care
Tip #1
Shampoo infrequently! Shampooing your hair every day will leave your hair dry and brittle.
I know you've heard that shampooing your hair everyday will remove the gunk and grease left behind from styling products.
Although this is true, shampoo contains one harsh chemical that strips the hair of most of its moisture, this chemical – SLS or sodium lauryl sulfate is a chemical found in most shampoos and it removes all the natural oils from the hair.
In simple terms, over-exposing your hair to SLS will leave your hair dry and brittle like a Brillo-Pad.
💡 Tip: Are there any Barbados made natural shampoo products? If so please contact us.
Solution: Only shampoo your hair twice a week, if possible with a product that does not contain SLS. The best shampoos are sulfate-free and mixed with natural oils and other ingredients to keep moisture in while it cleans your scalp and hair.
Tip #2
Moisturize everyday! Moisture starts at the root. Hydrating at the scalp supports the hair that grows from it to become soft and, most notably easy to style and maintain.
Your hair has the propensity to dry out throughout the day. This could be the result of dry air in the heat, every day is a fight to keep those tresses smooth.
Solution:  Always use a rinse out conditioner to replenish moisture to your scalp and hair, this is especially important after you shampoo your hair.
You can also use a hydrating creme or any amount of oils or oil blends. For example, oils like sweet almond oil or coconut oil can be apply directly to the scalp.
Be sure to dispense evenly throughout the scalp and hair for the greatest results.
A little everyday can go a long way!
Tip #3
Choose a low-maintenance style!  Taking care of your hair the right way provides more styling options. A low caesar or baldy are not the only options available, waves short curls or longer hair styles based on your hair texture can be possible.
Solution:
Barbados barber shops have plenty of qualify barbers who can assist in creating low maintenance hair styles for men. You always have the option of going back to a low cut, however if you never try new hairstyles you will never know what other styles look great on you.
The best low maintenance hair style is the one that does not make you late for work!
Skin
Like hair, knowing one's skin colour, type and tone will be beneficial in choosing the right skin products. The simplest way to take care of one's skin is to take a good bath or shower. It is important to cleanse and moisturize the skin with products that work with your skin type.
Hyperpigmentation is very common among African men, this results in patches of dark skin which are sunburned or prone to acne. Plant-based products are perfect for pigmentation. African skin is rich in melanin; however, it is still important for African men to wear a sun protection recommended by dermatologists.
Actionable Tips On Hyperpigmentation You Wish You Knew Before – CLICK HERE
Nails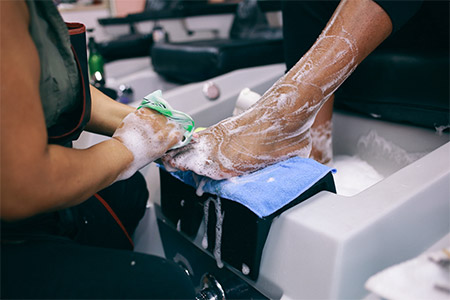 Weekly, finger and toe nails should be cut.  This can be done at home, but an occasional manicure and pedicure is a great investment. Short nails are more suitable, but never cut nails too short so that the nail bed is exposed. The nail bed is the formative layer of cells underlying the fingernail or toenail.
Hands and Feet
Rough hands and calluses are not very attractive or masculine. A man's hands and feet should always be moisturized with lotion.
To achieve hands and feet free of calluses and cracks, men should use a pumice stone or callus shaver.
Lip care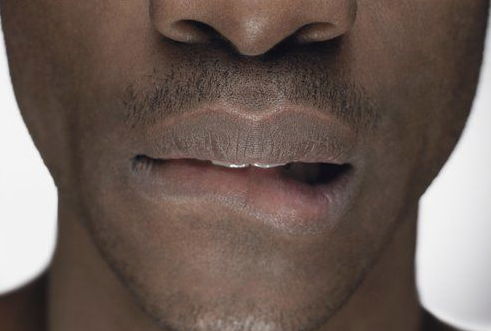 Men with dry chapped lips should update their lip care routine.  To achieve smooth and clean lips men should increase their water intake, and consume more fresh fruits and vegetables.
Exfoliating the lips every few weeks will remove dead cells leaving the lips smooth. To exfoliate the lips men should use Vaseline, honey or brown sugar to brush the lips gently.
A high- quality lip balm can reduce dry and peeling skin around the lip area.
Men who smoke, should rub lemon juice on their lips to reduce the appearance of dark and blue lips that smoking causes.
To keep your lips in perfect condition, reduce the intake of spicy foods, coffee and drink less alcohol.
Body Odor
There is nothing worse than having a pungent repulsive body odor. To avoid this, use deodorant and cologne after taking a shower.
Although, applying cologne is great for grooming, using too much is bad. Cologne should be a light fragrance; two or three sprays is sufficient.
Discipline is a major key to successful grooming. It is not just about using the best product, but being committed to eating healthy and exercising.
Working out, taking a multivitamin and consuming plenty water will ensure a healthy body and mind. This will make more people attracted to you and you never know what the result of grooming maybe.
Thanks for reading and remember to share this article.
Get notified when we write about women hair care and other grooming tips, join our mailing list click here.