All Inclusive Things To Do In Barbados For Everyone
So many things to do in Barbados and that means Barbados all inclusive fun with family, friends or just solo.
Barbados is famous for its warm sun, crystal clear water and sandy beaches, the island of great people in the Caribbean.
If you are visiting the island, stay in one of Barbados' all-inclusive hotels in which the island is home to the world class all- inclusive resort, Sandals Barbados.
Barbados' hotels are world class and are known for their quality service.
For visitors, Barbados' currency exchange rate is currently two Barbados dollars to one US dollar. Explore what Barbados truly has to offer in this all-inclusive destination guide.
This article has everything from things to do as a family, and for those who prefer to explore solo we have you covered. It is a perfect read for visitors and locals who want to explore the island.
There are several exciting things to do in Barbados, from the intellectually inclined in search of history, heritage and a deeper understanding of Caribbean character, to the expert of the sweet life in quest of excitement through music, dance, song, culture and gourmet luxury.
All-Inclusive Vacation
Learn new places to see and exceptional things to do. You would not want to miss out on these wonderful sights on your Barbados all-inclusive vacation.
My first must do experience is exploring the crystal clear waters of Barbados, but this time completely submerge underwater while remaining completely dry.
Yes, you read that correctly!  Envision yourself in a real submarine, with large view ports all around, entirely submerged in the aquamarine Caribbean Sea, as inquisitive unusual fish peek in at you and sea fans sway.
This activity is perfect for those who are interested in exploring the underwater gems in Barbados but are not swimmers or divers.
This is a great solo or family experience . I loved seeing the shipwrecks and colorful reefs. This was hands down one of the most remarkable things I have ever experienced.
Hotels, Car Rentals, Restaurants & More – CLICK HERE
Historic Bridgetown
Next up on my list is to explore Bridgetown the capital of the island also known as Historic Bridgetown and its Garrison – a UNESCO World Heritage site. These locations are places on Earth that are of outstanding universal value to humanity.
Easily accessible by public transportation, the city capital is the hub of commercial activity and full of life. Located in the city, visitors and tourists can visit Pelican Village where they can purchase locally hand – made arts and crafts and dine on Barbadian cuisine.
This "little village" is home to retail shops, workshops, a gallery and annex, a wine bar and bistro, a restaurant and an impressive artist wall.
The Garrison Historic Area with George Washington – CLICK HERE
Garrison Savannah
Approximately, five minutes away by car is the Garrison Savannah which has been the home of horse racing in Barbados since 1845. This is the place where Barbados symbolically gained its independence over 50 years ago.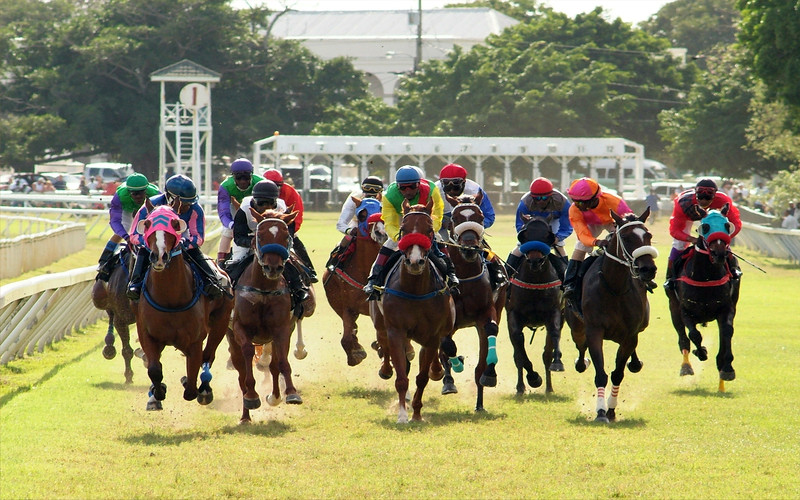 Located here is the national independence monument where you can take photos with the huge Barbadian flag and coat of arms.
Independence Day in Barbados – CLICK HERE
Located in Bridgetown, this next attraction is surprisingly amazing, a tour of one of the oldest parliaments in the Commonwealth. These historic Parliament Buildings ( previously known as the Public Buildings) are home to the House of Assembly and Senate, situated at the top of Broad Street.
Filled with more than 350 years of history, these buildings were constructed from local limestone and finished in 1874 by a Gothic Architecture. I was intrigued by the stained glass windows that skillfully represent British Sovereigns from James I to Queen Victoria.
These windows were designed by both of Barbados' very own Mr. Thomas Hawkesley, and his brother Charles Hawkesley.
Barbados Parliament Museum
Inside the Parliament museum is a timeline of the development of democracy in Barbados since 1629 until current times and the part that the island's people have played in this advancement.
This information is stored in the historic West Wing of Parliament which offers a mixture of classic exhibits, artistic impression and contemporary interactive museum experience.
You can cherish the memories of your visit by buying unique memorabilia from the museum's gift shop located at the reception.
Discover the history that has laid the foundation for the Barbados that we are so proud of today.
Exploring the northern part of the Island –  the first stop on my list is the Animal Flower Cave. At this cave, the coastal scenery is spectacular below and above the cave.
Animal Flower Cave
The animal flower cave's picturesque view several feet below ground is perfect for those Instagram photos, the views from the naturally formed windows out to the ocean are magnificent, leaving everyone on your social media in love with your photos.
However, I must warn you the sea cave is slippery.  Inside, the cave wall is full of fascinating formation which are green and brown in colour from the oxidation of copper and iron. This is a must see! Simply a natural wonder of Barbados.
The cave got its name from the tube worms that are found in its many rock pools, these are seasonal however, and not always present in the cave. Nevertheless, the cave itself is still well worth a visit.
My friends and I enjoyed swimming inside the largest rock pool inside the cave which was an unbelievable adventure all by itself.
Do not forget to bring your swim wear and towels. I also enjoyed the restaurant on site and which seating area had panoramic sea views, for the children there is a play park too.
So plan to spend some time and enjoy the cool sea breeze and the fabulous views with your family. This is a must on my things to do in Barbados.
East Coast of Barbados
For those who want to relax in an eco-friendly environment I suggest you explore the rugged east coast of Barbados.  On the island, you can find an abundance of car rentals services. You can rent a car for the weekend or the day and explore the east coast.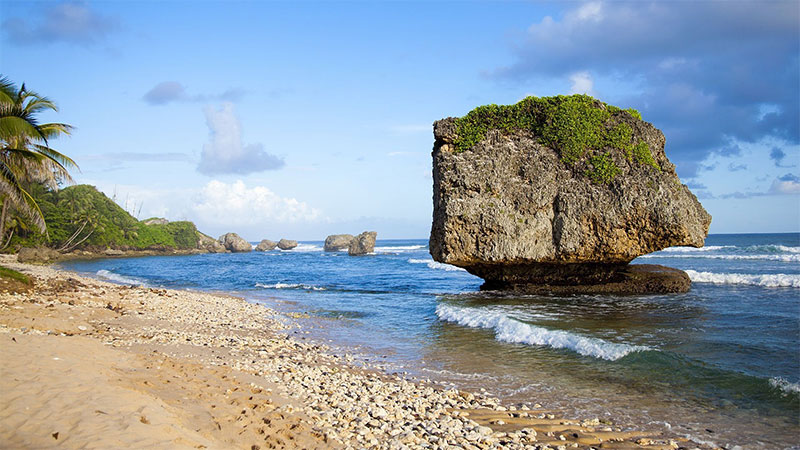 It is astoundingly beautiful; white sand beaches stretch along a melodramatic coastline of unmistakably rock formations against which the Atlantic rollers break in forces of foam.
At first sight, what looks like gigantic boulders washed up on the beach are actually rock formations that broke away from ancient coral reef. Bathsheba is another perfect destination for a family day out or for a solo adventure.
Coastal Coral Reef
I love swimming in the shallow inshore pools with a fruity margarita in one hand while the surf splashes up, spinning the water around in nature's own whirlpool. The pools are sculpted out of the coastal coral reef and are a few feet away from the sandy shore.
Then there is the "soup bowl" which name originates from the foamy surf that can be found there. This beach is ideally for surfers, throughout the year they are local and international surfing competition held here.
The soup bowl is filled with constant big rollers coasting in across the Atlantic Ocean which is a surfer's dream.
Barbados All-Inclusive Hotels
For those who enjoy taking time to enjoy life, with their minds focused on their place in the world, at this eco-friendly hotel, I experience a fresh, present -day take on true island living. Majority of Barbados' hotels and all-inclusive hotels are located on the west and south coast of the island, there you can also find luxury villas and hotels.
Those in search of an authentic island living experience or those that just want to escape from the hustle and bustle of their every day will find this eco-friendly location a gem and I truly enjoy this experience.
Snuggled inside the Bathsheba community, this location is quiet and immaculate; it is laid back, and personifies simple living and a profound respect for nature. At this establishment they offer visitors reusable water bottles and all drinks are served with bamboo straws.
Only organic cleaning products and organic toiletries are used. One of the highlights of my stay here was the farm to table restaurant whose menu was primarily plant-based and organic.
Beautiful Barbados Murals
While travelling throughout the island you can expect to find art in unexpected places. These public exhibitions of art represent the history, culture, traditions and natural beauty of our island.  Throughout the island you can find alluring, colorful murals that mark buildings and boardwalks.
Although most are painted, the murals along the south coast boardwalk are created from flamboyant pieces of broken local pottery. My favourite mural is located in the northern town of Speighstown.
At a beachfront location, stands an incredible 80ft long and 20ft tall creation. It utilizes realistic imagery to paint a portrait of the history and natural beauty of Barbados.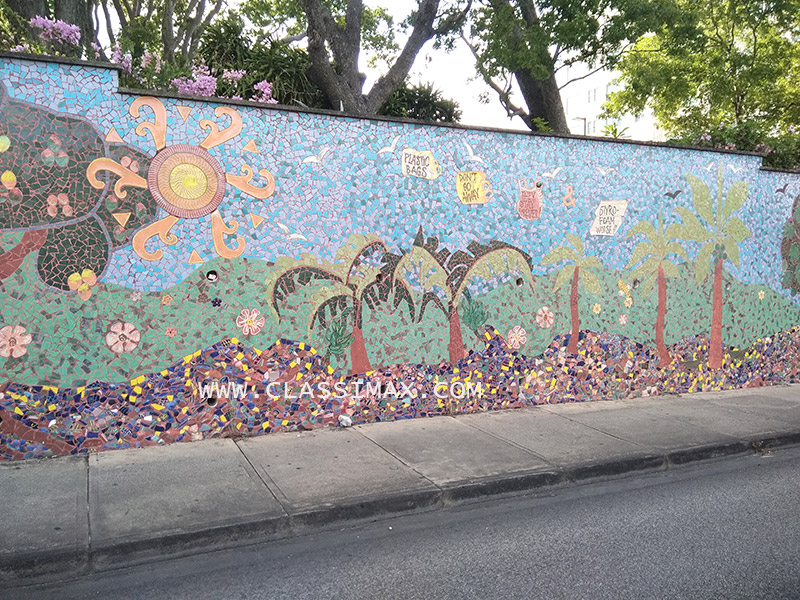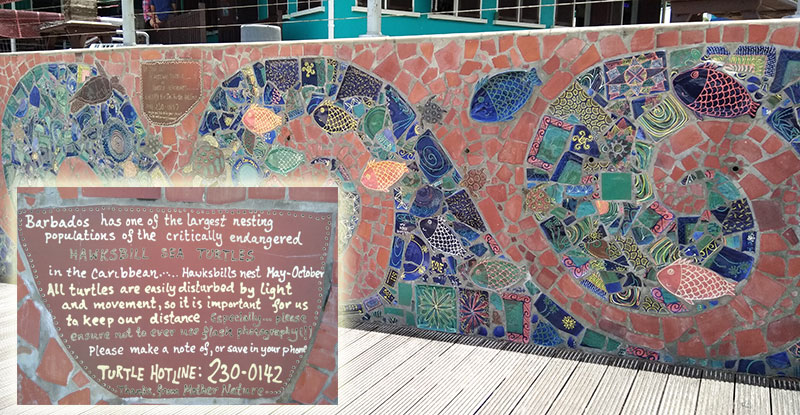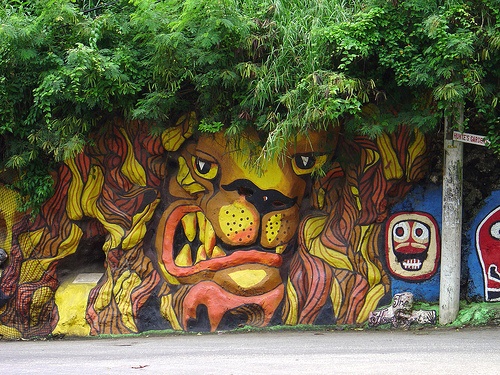 Don't Visit Speightstown Without Reading This – CLICK HERE
Harrison's Cave
Scenes of Harrison's Cave (another must do in Barbados) merges flawlessly into historical scenes of the raising on Barbados' flag on Independence day.
Green monkeys oversee chattel houses and the original Amerindian inhabitants of the island. It appears that each time you gaze at the mural; you see something different that your eyes missed previously!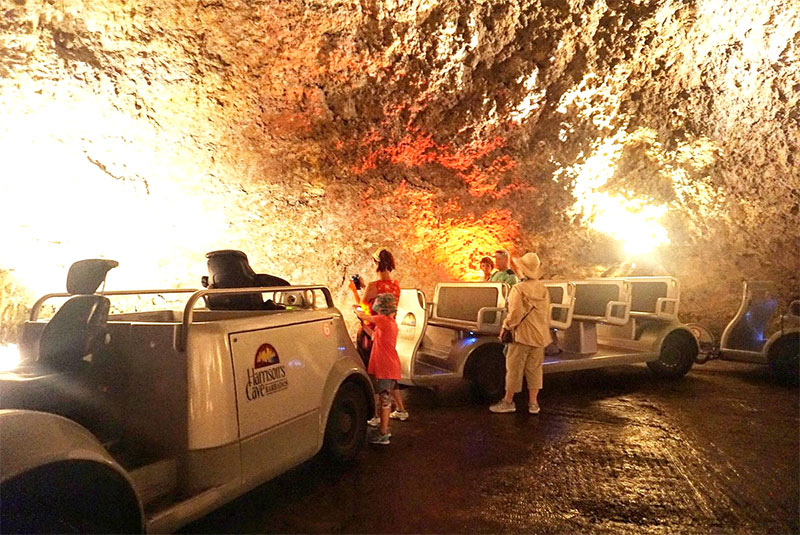 Another crowd-pleasing mural and must see is the located in Parris Hill, St. Joseph and this one is conceivably one of the most famous murals in Barbados. The work blends with the natural limestone foundations to make vibrant scenes of a sleeping lion.
I also admire the other murals in the form of advertising, that can be found on the side of rum shops and on vendors' carts.
Discover Barbados
One of the best ways to explore the off-beaten track regions in Barbados is via a scenic tour by a safari-rigged all terrain jeep. On these tours you get to discover and explore the gullies and natural terrain of Barbados not accessible by a regular motor-vehicle.
On these tours you get to see the murals I describe above. These tours are appropriate for families, couples, groups and particularly the adventure seekers, both local and visitor alike. After a day of excursion, you can enjoy the vibrant nightlife in Barbados by visiting Oistins on a Friday/ Saturday night and enjoy the sounds of karaoke while devouring locally prepared fish.
Oistins – The Royalists, Food, Fun & Entertainment – CLICK HERE
St. Lawrence Gap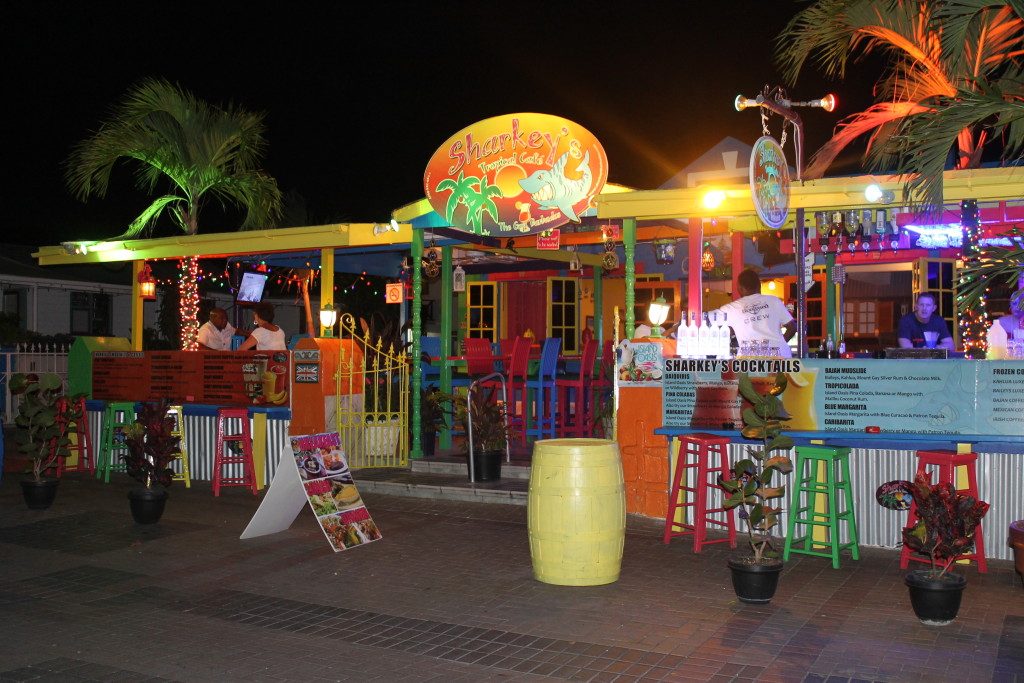 Along with that, you can explore St. Lawrence Gap which is full of restaurants, bars and nightclubs. For a more luxurious experience you can travel to the west coast of the island and dine at one of the many five star establishments.
One of the perks of living and visiting an island is access to fresh fish!  An important staple in the Barbadian diet. Barbados is full of fish markets and vendors.
Fish Markets
Barbados Fish Market – CLICK HERE
I love visiting fish markets and watching the vendors skillfully prepare different types of fish. Flying fish (part of our national dish) is a popular catch. My favourite fish are marlin, swordfish and tuna. Fish are seasonal, so ask the vendors what's in season when you visit.
In the market you can expect to hear the most authentic Barbadian language better known as Bajan dialect which is a colorful array of words and expression. You'll find the vendors very welcoming and helpful, willing to answer your questions, make suggestions and portion the fish according to your needs.

Flying Fish & Cou Cou Recipe – CLICK HERE
Every year, to glorify and support the fishing culture in Barbados, Oistins Fish Festival is held.
This event takes place every Easter weekend in the scenic fishing village of Oistins on the south coast of the island. Each year there are many competitions associated with fishing as well as others carefully chosen for the fun of it. Crowd favorites are the greasy pole competition and the boning competition.
On Sunday afternoons in Barbados I suggest going to the beach or planning a family picnic at one of the numerous parks located around the island.
Farley Hill Park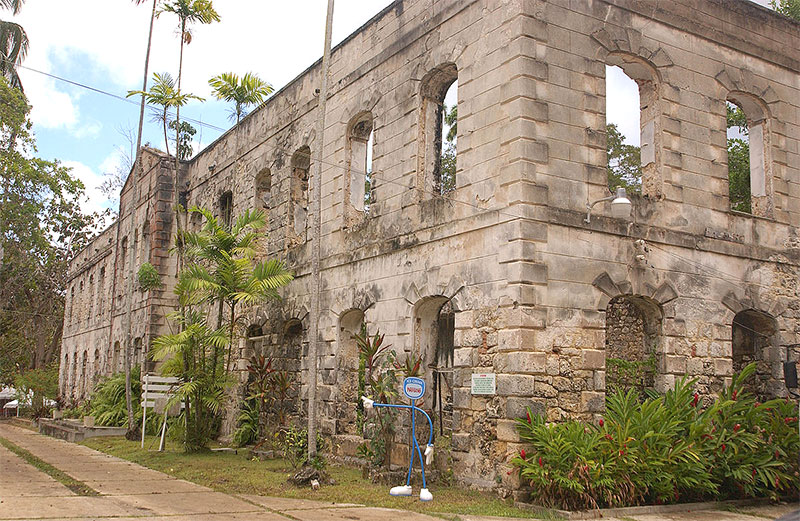 My favourite park is hands- down Farley Hill Park which is a relaxing spot to picnic, escape into nature, hide in the shade of a comforting tree or simply stare out to sea. The spectacular scenery is set in the estate of the once majestic Farley Hill House.
A mansion in ruins, tucked away in a forest of mahogany trees, high up on a hill overlooking the rocky Atlantic coast. Barbados on the
For those who travel to Barbados for business, take an hour or a day off and explore one of these things to do in Barbados. You will not be disappointed!
Barbados on the whole is full of adventurous things to do.
Update
Another wonderful activity – Festive Fridays