Is it March Madness or Sheer Goodness?
Simpson Motors is giving you the opportunity to own a brand-new vehicle without having to pay one cent until June!  You heard it correctly. Qualifying customers will pay no deposit and their first payment will be due on June 1, 2018. This offer is available for selected new vehicles bought in March 2018.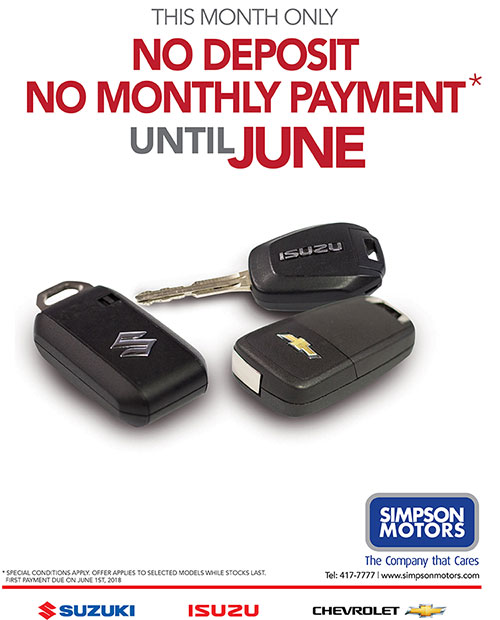 What Can You Buy?  
How about the range of Suzuki models including the very popular Swift and Vitara options, along with the Baleno, Ignis and Ciaz.  Or the Chevrolet models like the Cruze, Trax and Spark.  If you prefer a pick-up truck you are in luck. You can select from the 3.0 Isuzu D-Max or Chevrolet Colorado – the most in-demand options on the road.   You are sure to find a vehicle that fits your family size and your lifestyle.
This amazing offer is made possible by Simpson Finance, which creates tailor-made, flexible financing solutions.  They work with potential customers to identify and create the package that best suits their needs.
If you have ever walked into the lobby at Simpson Motors, you would have noted the friendly smiles, the willingness to help. The surroundings are pristine and there are refreshments available. I have been a Simpson Motors customer myself for a number of years. I have to say that for this company, customer service is not a noun but a verb. When you purchase a vehicle there, you do not merely become a vehicle owner, but a member of a family where everyone seems to genuinely have your interest at heart. It is an environment that inspires both excellence and loyalty.
So, if you have never owned a vehicle before or need to acquire a new one, Simpson Motors is the place to begin that journey. Why wait? You only have until March 31 to make good on this offer and 2018 can be even more special with you in the driver's seat!